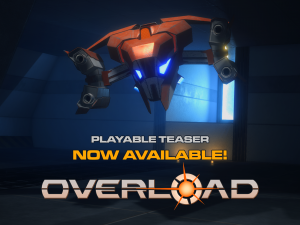 Back in the 90's, we released shareware demos to give people a taste of what we could offer.  Some things you just have to experience first hand to fully realize the scope and potential.  Today we're bringing back that same concept.  We feel releasing the Overload Playable Teaser is the best step to take and will ignite players around the world.
We've put his demo together in a hurry, and though we've done as much as we can to make it perfect,  it still has some rough edges.  And of course we're very early in development — we're showing off a few sample levels and some cool weapons and robots, but there's lots and lots more to come. 
The teaser includes VR support for the Oculus Rift only.  The final launch of Overload will support other VR devices.
Please, share this with everyone!  We want as many people as possible to get hands-on experience with Overload.  We are proud of this project and feel the teaser shows the potential of where Overload will go with the right support. 
We're also hoping you'll help spread the word about Overload and the demo by posting screenshots, GIFs,and videos (to Facebook, Twitter, Instagram, & everywhere else) and using the hashtag #playoverload and our Twitter handle @PlayOverload. 
After you play the teaser, let us know what feedback you have.  You can email us at [email protected] or join the discussion on Forums.
This version is Windows only; our apologies to our Linux and Mac backers.
To play, just unzip the file and double-click on "OverloadPlayableTeaser.exe".
64 Bit System Playable teaser: http://media.revivalprod.com/OverloadPlayableTeaser64bit.zip
32 Bit System: http://media.revivalprod.com/OverloadPlayableTeaser32bit.zip
Steam Free Demo: http://store.steampowered.com/app/450220/