First, we are happy to have the level editor available through Steam! We know this community is amazing and can't wait to see all the content you create.  Here is a series of tutorial videos on our level editor by Designer Luke Schneider. He covers the basics and gives you the information to take your maps to the next level.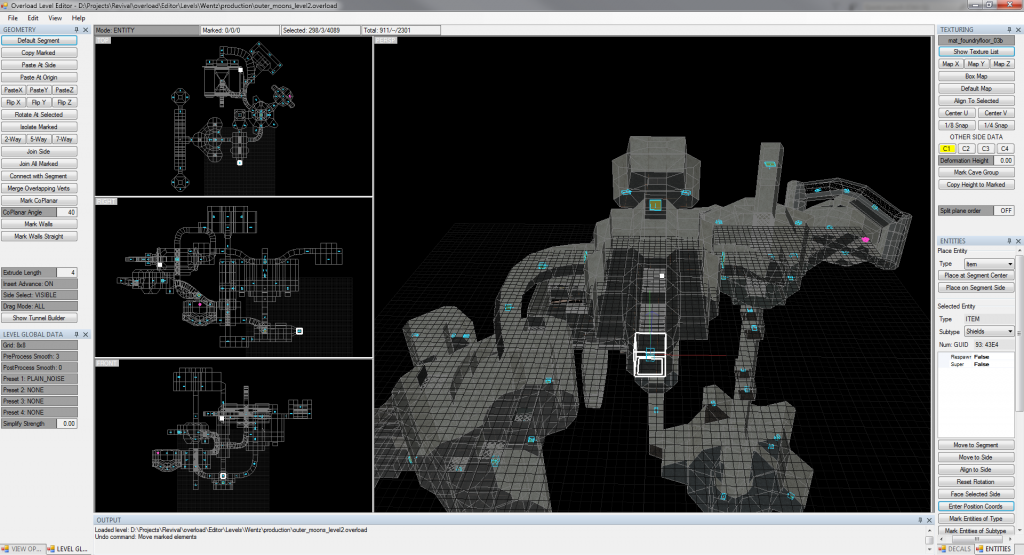 Also, we are excited to announce our official Wiki from Gamepedia! Please visit the page to learn more and share what you know on Overload.
Now the list of changes and fixes for this patch!
Changes:
Two changes were made to data saved for NG+ after completing the game:
Level 2 upgrades (Super Upgrade points) are undone and the upgrade
points are refunded. This allows the player to choose different
Level 2 upgrades when starting the NG+ game.
Values will only be updated if they are better than the values saved
from the player's previous run(s).
Updated Rewired input manager, providing support for 3Dconnexion devices
such as Space Mouse, Space Explorer, Space Navigator, etc.
Fixes
Fixed the problem with user levels not working on Linux.
NG+ now works add-on missions.
Add-on levels are ignored if they have the same name as an existing level.
The correct ending is now played for Cronus NG+.
Fixed survivor pickup error when there was no story text (which could
happen in an add-on level).
Removed anti-cheat detector warning messages that in certain cases caused performance issues.
Fix Save/Load issue with Flak range finder.
Player is no longer warned about skipping upgrades if all upgrades have been applied.
Fixed the orange sky in Phoebe Complex.
Fixed the flickering light at the start of Level 6.
Fixed problem of upgrades disappearing in add-on missions.
Level Editor Updates/Fixes:
Challenge mode data is removed from the Editor, and now is located next to the CM Level, in the format "challenge_mode_LEVELFILENAME.txt" to be right next to LEVELFILENAME.cm (loose or in a zip file)
CM maps can now use built-in music
Add "N0000_" to enums that don't work for entities
Removed texturing TEST button
Change Avg UD and Avg LR buttons to Seg (Average is mostly useless)
Added Reset button to reset decal settings (rotation/offset/repeat)
Add new option to only copy decals from the side you're inserting on (or none)
Make inserting decals refresh decals (for relevant segments only)
Lights draw their shape (when selected)
Diamonds drawn on linked objects (when scripts/triggers selected)
Shortcut key popup in Help menu
Add trigger entity for lava sparks (alien and normal) like energy center – use RptDelay to scale amount of particles
Fixed side count in Total is not showing anything
Changed the SliderLabel to support resetting with MMB in the future (too much work for now, 40+ things to update)
Added custom level info pane (alien levels/exit timing/etc)
Made custom levels' reflection probes ignore items/doors/robots (caused weird lighting effects)
Made editor export CM data file (with music tag)
Other miscellaneous fixes