Ongoing Support
If you missed our Kickstarter campaign and would like to support Overload, scroll down and click on the "PRE-ORDER" link for the level at which you want to contribute.  (Note that you might have to scroll back to the top of the page to see the pop-up window.)  All pre-orders will also receive the multiplayer expansion at no extra charge.  If you would like to purchase additional digital copies, Overload T-shirts or Boxed PC copies (after purchasing the $120 tier or above), contact BackerKit here.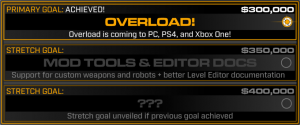 Stretch Goals

All Pre-orders and reward upgrades contribute toward our stretch goals.
PayPal Payments

If you are already a backer and would like to add funds through PayPal go here.
If you are not a backer and would like to pre-order with Paypal, contact BackerKit here, who will create a backer account for you.
Try Before You Buy
New to Overload and 6DOF shooters?  Experience the intense gameplay for yourself with our free playable teaser.  If you enjoy the dynamic action of Overload, pre-order or think of upgrading to the $90 tier for new demos and beta access.